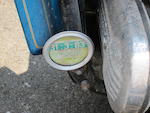 Property of a deceased's estate
1977 Honda GL1000 Gold Wing Motorcycle Combination
Registration no. REF 575R
Frame no. GL1-2033262
Engine no. GL1E-2032494
In a world grown accustomed to excesses of decadence on all fronts, it is hard to imagine the mixture of awe and disbelief that greeted the Honda Gold Wing on its arrival in 1974. Given the mind-boggling specification - 1,000cc flat-four engine, water cooling, belt-driven overhead camshafts, shaft drive, triple disc brakes, etc - it was certainly complex if not, strictly speaking, that advanced. One of the fastest production motorcycles of its day, the Gold Wing was described in Honda's Stateside ads as 'the epitome of what touring is all about' and proved eminently capable of taking sales from both BMW and Harley-Davidson. Its late owner first rode this Gold Wing as a solo before attaching the Watsonian Squire sidecar and making his own set of leading-link front forks (see 'Can We Help You? magazine on file). In this latter configuration it was used for family camping trips carrying two adults, three children and a Border Collie! Last taxed in 1983, 'REF 575R' carries a tax disc that expired in March of that year and currently displays a total of 13,591 miles on the odometer. Sold strictly as viewed, its mechanical condition being unknown, the machine is offered with Watsonian guarantee, Haynes manual, sidecar booklets, expired MoT (1983) and old-style Swansea V5. The original telescopic forks and two spare stainless steel exhausts (unused) are included in the sale. No reserve.
Saleroom notices
There are no spare stainless steel exhausts with this machine.