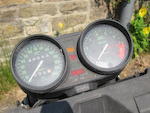 Property of a deceased's estate
1978 BMW 798cc R80/7
Registration no. VDC 800S
Frame no. 6026204
Engine no. 6026204
'BMW have built their reputation almost solely on the touring virtues of their flat twins, so it was a pleasant reminder when I rode the R80 that a balance of performance and ride properties can produce a versatility based on excellent rather than average capability in every department.' - Bike magazine, July 1980. BMW's first 'R80' (nominally 800cc) model was the R80/7 introduced in 1977 as replacement for the 750cc R75/7. Like its predecessor, the R80/7 was powered by BMW's traditional air-cooled flat-twin engine coupled to low-maintenance shaft final drive transmission. Engineered to BMW's customarily high standards, the R80/7 was far from cheap and in 1978 cost around 40% more than Yamaha's similarly shaft-driven XS750 tourer. Its late owner used this R80 as ride-to-work transport and also for two-up touring within the UK. Purchased when it was around one year old, 'VDC 800S' carries a tax disc that expired in October 1989, which almost certainly is when it was last on the road. Sold strictly as viewed, its mechanical condition being unknown, the machine is offered with purchase receipt, four expired MoT certificates, workshop manuals, BMW booklets, sundry bills and old-style Swansea V5 document. No reserve.