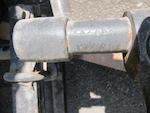 Property of a deceased's estate
1938 Triumph 598cc Model 6S Motorcycle Combination Project
Registration no. ELU 523
Frame no. TH3732
Just as he had done at Ariel in the 1920s, Val Page transformed Triumph's ageing range on his arrival at Meriden as Chief Designer in 1932. The new line-up comprised overhead- and sidevalve-engined singles in capacities ranging from 250 to 500cc, plus the range-topping 650cc 6/1 sidecar tug. Endowed with distinctive timing-gear covers - a feature Page would employ at BSA later in the decade - the engines were simple yet robust in construction and amenable to a fair degree of tuning in the case of the overhead-valve units. Introduced for 1937 and intended for sidecar use, the 598cc sidevalve-engined Model 6S followed the successful pattern already laid down and continued substantially unchanged until the outbreak of WW2. The 6S was not produced after WW2 and only three are recorded in the VMCC's Register of Machines. This Triumph 6S combination's late owner was a keen and skilful sidecar enthusiast, having spent the summer after he completed his apprenticeship working for the RAC, part of the job being sidecar stunt riding at country shows, an activity he much enjoyed. 'ELU 523' was almost certainly purchased from the Dene Motor Company of Wallsend in North Tyneside, the previous owner having lived locally. Attached to a Swallow single-seater sports 'chair', the machine has been in storage for many years and requires full restoration. A potentially most rewarding project, it comes with old-style Swansea V5 and is sold strictly as viewed. It should be noted that the engine number has been over-stamped.
Saleroom notices
Val Page transformed Triumph's range on his arrival at Priory Street, Coventry, as Chief Designer in 1932 - not Meriden as stated in the catalogue.