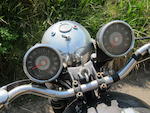 Property of a deceased's estate
1967 Velocette 499cc Venom Thruxton
Registration no. MTN 288E
Frame no. RS16108
Engine no. VMT490
Production race successes, notably in the Thruxton 500 Mile event prompted Veloce Ltd to adopt that name for their newly introduced top-of-the-range sports roadster in 1964. Based on the existing Venom, the Thruxton featured a tuned engine with revised big-valve cylinder head, Amal GP carburettor, clip-on handlebars, rear-set footrests and a twin-leading-shoe front brake as standard equipment. Although the Thruxton took its name from the eponymous Hampshire racing circuit, arguably its finest hour came in 1967 when Manxman Neil Kelly won the '500' class in the Isle of Man TT's Production race, newly introduced for that year.

Although much admired by the café racing fraternity, the Thruxton's necessarily high price limited its appeal to a select handful of wealthy connoisseurs. It is thought that as few as 1,100 were made by the factory (with a further 55-60 assembled from parts by main dealers) and today the Thruxton is one of the most sought after of post-war Velocettes.

Its late owner purchased this particular Thruxton from the Dene Motor Company of Wallsend, North Tyneside in 1975 and after he bought his last house it was kept in the front room and occasionally started there! The frame (number 'RS16108', a Venom or Viper component) dates from around 1960 and was already part of the machine when the accompanying old-style logbook was issued in 1972. Most likely the Thruxton had been rebuilt following a crash that wrote off the original frame. Certain Thruxton components have been replaced with ordinary Venom/Viper parts (front brake, footrests, exhaust and handlebars) but, curiously, there is a photograph on file of the late owner and 'MTN 288E' showing the machine in full and correct Thruxton specification. The family believes that he owned the Velo twice, the photograph probably dating from an earlier period of ownership in the late 1960s prior to the rebuild. It should also be noted that the gearbox is correct for a 1967 Thruxton.

In storage for some considerable time, 'MHN 288E' will require extensive re-commissioning, at the very least, before returning to the road. The machine is offered with service manual, owner's handbook, manufacturer's brochure, Veloce Ltd letter and a Velocette price list. Interestingly, these last two documents date from 1966, which may indicate that the late vendor had been the Thruxton's original owner. The machine also comes with a quantity of spares, a full list of which will be available prior to the sale.