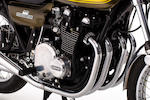 c.1973 Kawasaki 903cc Z1
Frame no. Z1F-04783
Engine no. Z1E-04814
Having established its performance credentials with the Mach III two-stroke triple, Kawasaki went on to ace the opposition once again with the awe-inspiring Z1. The model had been planned in 750cc form in the late 1960s but was beaten to the showroom by Honda's CB750. Kawasaki's proposed superbike already had two overhead camshafts to the Honda's one, so its designers redrew the motor as a 900. Launched in 1972 at the Cologne Show, the big 'Zed' set new road-bike performance standards, at least as far as straight line speed was concerned. With 82bhp on tap, top speed was around 130mph, but if the rider used all that power on twisty roads, things could get exciting. As a fast tourer though, the Z1 excelled. Mildly revised, the model was renamed Z900 for 1976. Charismatic in the extreme, these early 'Big Zeds' are served by an enthusiastic owners' club and are increasingly sought after today. Few bikes from Japan have had as big an impact on the motorcycling world. Representing the model in its earliest and purest form, this beautifully restored Z1 currently displays a total of 27,754 kilometres (approximately 17,200 miles) on the odometer and is offered with copies of Dutch registration documents.
Saleroom notices
Prospective purchasers should be aware the machine shows signs of repaired accident damage to the front downtubes.