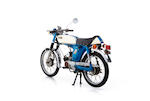 Never used
c.1974 Yamaha 49cc FS1
Frame no. FS1-027049
Now elevated to cult status, Yamaha's FS1-E 'Sixteener Special' first appeared in 1973. Dropped from the range in 1979, the model was later revived by Yamaha - an almost unprecedented occurrence - with production recommencing in 1987. Originally the 'FS1', the model later gained a set of bicycle pedals to meet UK moped legislation, becoming the 'FS1-E'. In its pre-August 1977, unrestricted form, the 'Fizzie' produced 4.9bhp and was good for around 45mph flat out. When the model was revived, without pedals but now equipped with Autolube, it was available in restricted form only, though the missing horses were relatively easily restored. The passage of time and attendant nostalgia effect has seen the humble FS1-E elevated to the status of one of the most collectible of 'modern' Japanese motorcycles, perhaps only second to the Yamaha RD350LC, with a whole generation of 50-something motorcyclists eagerly buying and restoring the humble 'Fizzie' in an effort to recapture the spirit of their youth. Although it has never been used, this FS1 does show some superficial signs of deterioration to paint, brightwork, alloy, etc, which should easily be corrected. There are no documents with this Lot. This vehicle, having completed less than 6,000kms, may be deemed to fall in the NMT category under NOVA if the vehicle is registered in the UK. Please visit www.hmrc.gov.uk/nova/ for further information.
Saleroom notices
It should be noted that this motorcycle dates from 1969 and not circa 1974 as stated in the catalogue. The machine is an FS-1, also known as the '50 Supersports', the precursor model that formed the basis for the pedal-equipped FS-1E sports moped. As this vehicle qualifies as a New Means of Transport, VAT at the current rate will be payable by the buyer to HMRC.