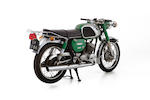 1968 Yamaha 246cc YDS5
Frame no. DS5-00402
Engine no. M2-01241
The first Yamaha motorcycle was a development of one of the most influential designs of the late 1930s - the DKW RT125, which also inspired the BSA Bantam - but its next offering, the YD1 250cc twin, was an entirely Yamaha design. The YD was later augmented by a YDS sports version and it was with these models that Yamaha first began to make an impression in foreign markets, aided by the performance of its 'RD' twins in Grand Prix racing. Superseding the YDS3, the YDS5 arrived in 1967. (There was no YDS4; the number '4' being considered a symbol of death in Japan). Its introduction marked yet another landmark development for Yamaha's 250 twin, which now featured an entirely new engine with alloy cylinders while the clutch - mounted on the crankshaft since the introduction of the YD2 - moved back to the gearbox, where it had been on the YD1. The YDS3 had been the first Yamaha twin to feature 'Autolube' automatic lubrication and this system was retained for the YDS5, though the pump was now driven off the crankshaft rather than the gearbox. Another innovation was an electric starter, which necessitated a switch to 12-volt electrics. Stylish and fast, the YDS5 was an enormous success, continuing Yamaha's reputation for offering more 'bangs per buck' than any of its rivals.

The YDS5 offered here has been fitted with a YM2 engine, the sole difference between the two power units being the lack of an electric starter on the latter. The machine currently displays a total of 20,697 kilometres (approximately 12,800 miles) on the odometer and it should be noted that the left side panel's retaining knob is missing. Offered with copies of Dutch registration documents. No reserve.