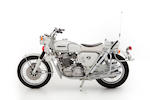 1969 Honda CB750 Police Motorcycle
Frame no. CB750-1027248
Engine no. CB750E-1027840
'Like BSA/Triumph's parallel twin and Ducati's desmodromic single, the Honda inline four is one of those engines which created a standard out of an ideal. The list of Honda's technical achievements is impressive but the appearance of a production four-barrel roadster at a Mr Everyman price was probably their greatest coup.' - Bike. Forty-plus years on, it is hard to imagine the impact the Honda CB750 had on the motorcycling world when it was unveiled to a stunned public at the 1968 Tokyo Show. True, there had been plenty of four-cylinder motorcycles before but these had been built in relatively small numbers and aimed at the wealthy few. Here for the first time was a mass-produced four within the financial reach of the average enthusiast, and one whose specification - overhead camshaft, disc front brake, five-speed gearbox, electric starter, etc - made the opposition look obsolete overnight. A trend-setting design of immense significance and one of the truly great classic motorcycles, it is highly sought after today by collectors. The CB750 was soon being purchased by police forces the world over, this example being one such. Finished in white, the machine features flashing blue/red lights, siren, crash bars, radio box, baton and large 'km/h' speedometer. A total of 44,908 kilometres (approximately 27,900 miles) is currently displayed on the odometer. There are no documents with this Lot.
Saleroom notices
We've been unable to read the frame number on this machine.