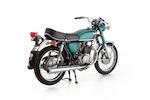 c.1971 Honda CB250K4
Frame no. CB250 4024966
Engine no. CB250E 408941
The Honda CB250 superseded the hugely successful CB72 quarter-litre twin when it arrived in 1968. Although retaining its predecessor's basic architecture, the new engine was styled differently, with cylinders virtually upright, and went into a new tubular cradle frame that replaced the earlier spine type. In addition, there were five speeds in the gearbox plus a twin-leading-shoe front brake, and with a claimed 30bhp on tap at 10,250rpm, the new CB250 was good for a top speed of around 90mph. Rarely do 40-year-old machines come as original as this un-restored CB250K4, which could be re-commissioned and ridden 'as is' or alternatively subjected to more extensive sympathetic refurbishment (the engine turns over freely). Previously resident in Switzerland, the machine appears to be generally in good order apart from the odd minor dent in the tank and exhaust silencers, some paintwork blemishes, and slight damage to the headlight brackets. A total of only 2,444 kilometres (approximately 1,500 miles) is displayed on the odometer. There are no documents with this Lot, which is offered without reserve.
Saleroom notices
The engine number is CB250E-4028941. The lot is offered with a Swiss registration document and Dutch customs document.