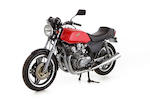 1981 Honda CB750 Bol d'Or
Frame no. RC04-2123365
Engine no. RC04E-2122976
The 'Bol d'Or' variant was tuned more highly than the standard CB750F producing an extra 7bhp. These 16-valve twin-cam models are starting to become more collectible as the increasing value of the original single-cam CB750 fours has put them beyond the reach of many. Nevertheless, this model is superior to its predecessors in just about every way and currently represents much better value than the original CB750. Values of these twin-cam Honda fours are sure to appreciate significantly in the coming years, reflecting their status as the last of the classic air-cooled muscle bikes. We are advised that this example's engine turns over freely, and with the usual re-commissioning - carburettor cleaning, new battery, etc - should be ready to use. Items that require attention include a loose tail light, air filter component missing and the seat could do with re-covering. The machine is supplied with copies of Dutch registration documents and is sold strictly as viewed. No reserve.