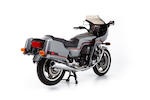 Never used, effectively 'as new' example
1982 Honda CBX1000
Frame no. JH2SC0609BC302323
Engine no. SC03E-2303228
'The CBX was quite simply a marvellous revelation which has genuinely elevated the status of motorcycling. Few people will be able to afford to run one, but then the best is never cheap. Above all, such a motorcycle should not be condemned because it's an excess.' - Bike magazine, December 1978. Just as it had in the preceding decade with the four-cylinder CB750, Honda stunned the world again in the 1970s, introducing the Gold Wing super-tourer and the outrageous six-cylinder CBX1000. Launched in 1978, the latter was not the first six of the modern era, Benelli's 750 Sei having beaten it by a couple of years, but it was by far the biggest and fastest. Launched in 'naked', twin-shock form, the CBX was revamped for 1981, gaining Pro-Link mono-shock rear suspension, a half fairing and ventilated front disc brakes. Weighing around 550lbs and with 105bhp on tap, the CBX was good for over 130mph and scorched through the standing quarter-mile in around 12 seconds. For most owners though, it was not the CBX's performance so much as its on-road presence that mattered. Even today, few bikes can match it for charisma, visual appeal and, above all, sound. Never used, this effectively 'as new' example of an increasingly collectible classic is offered with US title deed. The only notified faults are a loose left-side mirror and some tiny scratches to the paintwork. This vehicle, having completed less than 6,000kms, may be deemed to fall in the NMT category under NOVA if the vehicle is registered in the UK. Please visit www.hmrc.gov.uk/nova/ for further information.
Saleroom notices
As this vehicle qualifies as a New Means of Transport, VAT at the current rate will be payable by the buyer to HMRC.