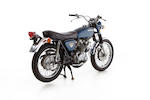 c.1968 Honda CL450K3 Street Scrambler
Frame no. CL450 4001768
Engine no. CL450E 4001776
The arrival of the Honda CB450 in 1965 should have dispelled any lingering doubts about Japan's intention to compete in all sectors of the motorcycle market. Honda's largest model when launched, the CB450 capitalised on experience gained with a succession of smaller-capacity twins but nevertheless departed from its maker's usual practice in a number of ways, in particular its use of twin overhead camshafts, torsion-bar valve springs and constant-velocity carburettors. The tubular frame - replacing Honda's traditional fabricated spine type - was another departure from the norm. In 1967 it was joined by a CL450 'street scrambler' variant aimed at the North American market, which boasted an upswept exhaust system, wider handlebars and spring-loaded footrests among other off-road adaptations. The machine offered here is an excellent original and unmolested example of the CL450 Street Scrambler, with all the important cycle parts present and correct and the engine turning over nicely. If the seat were re-covered the machine would look very smart indeed without any further expense required other than the customary re-commissioning - carburettor cleaning, oil change, new battery, etc. The odometer reads 30,882 miles. Offered with copies of Dutch import documents. No reserve.