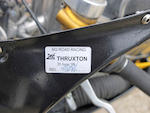 Offered from the estate of the late Clifford Jones, the ex-David Morris, Chrysalis Racing
1994 Tigcraft-BMW F650 Racing Motorcycle
Frame no. TIG 060
Formed in the early 1980s, Chrysalis Racing was for the next 20 years one of this country's top privateer teams at both national and international level, winning four Isle of Man TT races and two British Championships. Chrysalis was set up by rider/engineer David Morris, his wife Alison and their friends and sponsors, Steve and Chris Caffyn. The team concentrated its efforts on the World Endurance Championship throughout the 1980s before turning its attention to short circuit racing and the Isle of Man TT. In 1992 Chrysalis entered the emerging Supermono (singles) class with David Morris riding a Harris-Suzuki, ending the season as champions.

For 1994 Chrysalis had a new Tigcraft-BMW: the machine offered here. Chrysalis' first venture to the Isle of Man with its new supermono in 1994 ended in an uncharacteristic 'DNF' when the Interspan ignition failed, but Morris bounced back the following year to take a splendid 2nd place in the Singles TT, his first IoM podium. By this time the Tigcraft-framed bike had been replaced by another using a Harris frame, and Chrysalis continued to use Harris as chassis supplier until its involvement with singles racing ended.

David Morris achieved another 2nd place in the 1996 Singles TT and then in '97 scored an historic win in the event, BMW's first solo-class Isle of Man victory since Georg Meier's in 1939. Morris triumphed again in 1998 and '99 to make it three TT wins on the trot. The latter year saw David win his second British Championship but the season ended in tragedy when he was killed in an accident at the final round.

For 2000, Chrysalis recruited John McGuinness, who rewarded the team with its fourth Singles win (his second of 19 TT victories so far). Chrysalis then switched its attention to the British Supersport Championship. The team last competed in 2003.

It is not known when Chrysalis sold the machine offered here; though soon after the 1994 TT, at that season's end or immediately prior to the 1995 TT (where David Morris used the Harris-framed BMW) seem most likely. From evidence contained within the history file it appears that this Tigcraft-BMW was owned from at least July 1999 to April 2005 by Mr Tom Blackwell of Nursling, Hampshire, there being two invoices for spare parts in his name, while the immediately preceding owner has informed Bonhams that he acquired it in the South of England (most probably from Mr Blackwell) around six years ago. Its late owner acquired the machine circa January 2012. Also contained within the file are sundry colour prints and a CD-ROM of photographs. A spare upper fairing, seat unit, box of assorted spares and a Clymer manual are included in the sale, as is the rear-wheel paddock stand. No reserve.
Saleroom notices
The ex-David Morris, Chrysalis Racing 1994 Tigcraft-BMW F650 Racing Motorcycle Frame no. TIG 060 Since going to press, previous owner Simon Tappin has advised us that he bought the motorcycle in June 2010 from Tom Blackwell, one of Chrysalis Racing's technical collaborators, who had owned it since Chrysalis switched to the Harris chassis in the mid-1990s. Tom Blackwell last raced the machine in 2009. Mr Tappin sold the Tigcraft-BMW to someone believed to be acting as agent for the late owner in March 2012.