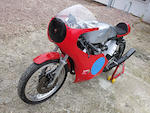 Offered from the estate of the late Clifford Jones
c.1973 Honda CB350 'K4' Racing Motorcycle
Frame no. CB250 4004791
Engine no. CB350E 4167287
The rise of the Honda K4 has been one of classic racing's talking points in recent years, the model's popularity resulting in the introduction of a 251-350cc Twin Cylinder class at CRMC events. Although based on that of a production roadster – the CB350 – the Honda twin-cylinder engine has benefited from modern tuning techniques and advanced technology not available back in the 1970s, and can now be made to produce more power than many of the thoroughbred racing engines of its day. Fast, reliable and relatively cheap to run, the K4 has provided many an aspiring classic racer with an affordable entry into the sport and is supported by a sizeable 'cottage industry' of specialists.

Documents contained within the accompanying history folder suggest that this K4 was once owned by Keith Laker and raced by his son John. It is not known when it was acquired by the late owner. The machine also comes with CRMC Registration Certificate and (copy) Honda parts list and workshop manual. The rear-wheel paddock stand is included in the sale. No reserve.