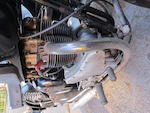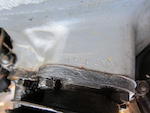 1947 BSA 495cc A7 Motorcycle Combination
Registration no. HTJ 553
Frame no. XA7 1558
Engine no. XA7 1602
Launched in September 1946, BSA's new A7 parallel twin followed Triumph lines: 360-degree crankshaft, vertically split crankcase, cast-iron cylinder barrel and 'head, but employed a single camshaft rather than the Triumph's two. The engine was extensively revised for 1951 along the lines of the newly introduced 650cc A10, and then in 1954 BSA's twins range was greatly expanded with the arrival of four new swinging-arm-framed models. The introduction of the new duplex frame meant that the A7's bolted-up gearbox had to go, but otherwise the engine remained much as before. The vendor acquired this A7 combination in March 2007 shortly after it had been restored by the previous owner (purchase receipt on file). Described as in generally very good condition apart from a broken sidecar screen, the machine is offered with SORN paperwork, expired MoT (2008) and Swansea V5C documents.