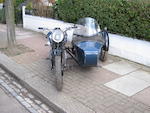 1934 Douglas 744cc Model Z1 'Powerflow' Motorcycle Combination
Registration no. AYX 713
Frame no. FM153
Engine no. 75/D134
The Bristol-based Douglas Foundry took up motorcycle production in 1907 with a machine powered by a horizontally-opposed, twin-cylinder engine, and the company would keep faith with this layout until it ceased motorcycle production in 1957. Douglas' success continued after The Great War but the onset of the Thirties decade brought with it changes of ownership and financial uncertainty. Nevertheless, the reconstituted firm continued to introduce new models, the 744cc Z1 arriving for 1934 as the largest machine in the range - intended primarily for sidecar duty. Given the name 'Powerflow' in 1935, it was dropped at the end of that year and is one of the rarer Douglas models of the 1930s. This example was stored by marque specialist Roger Mortimer before being rebuilt by Tony Matthews circa 1999. Later on, the vendor added the sidecar and we are advised that the machine has not yet been re-registered as a motorcycle combination. 'AYX 713' is described as in generally good condition with very good frame/cycle parts, the only notified fault being a slipping kickstart. However, it should be noted that the engine needs running in and that the sidecar is said to require some work. The machine is offered with factory leaflet, (copy) related literature, old-style continuation logbook (issued 1947), three old MoT certificates (most recent expired July 2004), SORN paperwork and old/current Swansea V5/V5C documents.