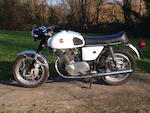 1969 Laverda 'American Eagle' 750GT
Registration no. SKR 33G
Frame no. 750-1312
Engine no. 750-1312 (see text)
Shortly after the Laverda 750GT went on sale in Europe, McCormack International Motors Incorporated, a vehicle importing business, concluded a deal with the Italian factory to market the model in the USA under the 'American Eagle' brand name. Unfortunately for Jack McCormack, Laverda's 750 twins were soon upstaged by the four-cylinder Honda CB750, which was not only better specified but cheaper too, and relatively few had been imported when McCormack went bust. This very early US-market 750GT was imported in 1989 and purchased by the current vendor in 2010. In 2011 the engine was totally rebuilt, including a crankshaft reconditioned by marque specialists Laverda Scozia (invoice on file), the substitution of stronger (SF) crankcases, a top-end overhaul and a new cam chain, while last year all the tin-ware was repainted to a very high standard. In addition, the electrics have been rewired, indicators installed and Kawasaki handlebar controls fitted. 'SKR 33G' is described by the vendor as in generally excellent condition and a true delight to ride, smooth and beefy. Currently taxed, MoT'd and offered with Swansea V5C, the machine also comes with its original (cracked) crankcases and a set of Laverda tank badges to complement the American Eagle ones.
Saleroom notices
The Engine no. is 750 12238. The machine is not currently MOT'd. The expiry of the last MOT was 25/04/2012