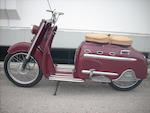 1955 DKW 75cc Hobby Luxus
Frame no. 51128
Engine no. 03015 365
A member of the Auto Union group of companies, DKW was rather late in climbing aboard the post-war scooter bandwagon and did not enter the market until 1954 with the Hobby. The latter was powered by a 75cc single-cylinder two-stroke engine featuring pull-cord starting, which was claimed to offer a 40mph top speed while delivering around 139 miles per gallon. There were three speeds in the semi-automatic belt-drive transmission, which also incorporated a clutch, while telescopic forks and relatively large (16") wheels ensured that the Hobby handled better than the predominantly small-wheeled opposition. The Hobby was offered in standard and Luxus versions, the latter featuring a pillion seat, passenger grab handles and additional chromed trim. DKW ceased Hobby production in 1956 after approximately 40,000 had been made, though it continued to be built under license in France by Manurhin. Today the Hobby is a rare sight, even in its native Germany. This beautiful example was completely restored between 2007 and 2012, the work including a complete engine overhaul, wheels rebuild, electrical rewiring and a re-spray together with new seat covers, transmission belts, tyres and brightwork. A 'must have' for the serious scooter collector, this rare model is offered with sundry restoration invoices, service books/manuals, German registration papers and a quantity of spares.
Saleroom notices