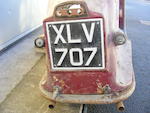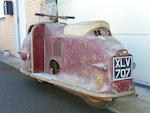 c.1958 AER Prototype
Registration no. XLV 707
Scott enthusiast and agent Albert E Reynolds began offering his own accessories for Scott motorcycles in the 1920s, going on to market modified Scotts under the 'Aero Special' (later 'Reynolds Special') name in the 1930s. Cancellation of Scott's three-cylinder model led to Reynolds developing his own machines. Not un-naturally these were two-stroke twins but of a more modern air-cooled design, the first of which appeared in 1937 featuring a 340cc engine of Reynolds' own manufacture. A Villiers-engined 250cc twin had been added to the range by the time production ceased on the outbreak of war in 1939.

After WW2 Reynolds resumed his business as a motorcycle dealer and towards the end of the 1950s made a solitary AER prototype of advanced design: the machine offered here. Looking somewhat like the contemporary Maico-Mobil, the fully enclosed AER featured a welded multi-tubular frame, hub-centre steering and a disc front brake. A Villiers 250cc twin was installed for initial tests. An article published in Motorcycle Sport (March 1965 edition, copy available) states that the prototype was taxed, insured and run for many months before the project was abandoned. Minus engine and gearbox (removed in the 1960s) it was given to the vendor nearly 20 years ago by Albert Reynolds' grandson and is offered for restoration. The machine carries a tax disc that expired on 31st December 1958, which is almost certainly when it was last on the road. An exciting project for any enthusiast of the British two-stroke. No reserve.