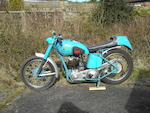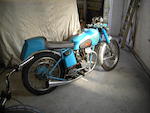 1937 Excelsior 250cc Model G11 Manxman
Registration no. DOF 605
Frame no. MG580
Engine no. BRA100S
Excelsior factory records show that the engine of this particular Manxman - 'BRA100S' - was being tuned and tested in the race shop early in 1937. Referred to as an 'Std 250 Manxman', it recorded a maximum output of 31.6bhp on '50/50' fuel, this almost certainly being the high-octane petrol/benzole mix commonly used for racing (a 250 Manxman would never have achieved that figure on the relatively low compression ratio dictated by the use of ordinary pump fuel). In his book 'Excelsior - The Racing Years' (page 75) Paul Ingham states that 'BRA100S' was one of two development engines fitted with hairpin valve springs, which were taken to the Isle of Man TT in 1937 as works practice motors. Presumably, it subsequently returned to the factory, was fitted to a standard Manxman roadster and sold off.

Partially restored, the Manxman has been modified with BSA forks and brake, non-standard mudguards/stays and a glassfibre racing seat, while the lurid colour scheme would surely have caused consternation at the factory. There are no electrics fitted but the (detached) headlamp does come with the machine. Last ridden in the late 1960s, 'DOF 605' is offered with a manual/parts book, Excelsior factory correspondence and an old-style continuation logbook (issued 1947) showing that it came into the vendor's family's possession in 1953.