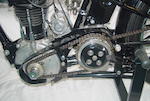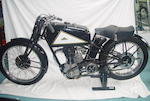 The ex-Rupert Leveson-Gower, Leslie Hawthorn
1935 Cotton-Blackburne 350cc Racing Motorcycle
Frame no. TT24
Engine no. BTC 112
Gloucester-based Cotton established its reputation with a string of racing successes in the 1920s thanks to an innovative frame patented by its founder, Frank Willoughby Cotton. Cotton's design featured four straight tubes running from the steering head to the rear wheel spindle, augmented by further straight stays supporting the gearbox and engine. The result was a stiff, lightweight chassis far in advance of the bicycle-derived diamond-type frame used by the majority of manufacturers. Like other small independent firms Cotton relied on proprietary engines, principally JAP and Blackburne, but such was the advantage conferred by its frame that the Cotton had little trouble seeing off similarly powered rivals. The legendary Stanley Woods made his Isle of Man TT debut on a Cotton in 1922, going on to win the Junior event at record speed the following year. Countless wins and podium places were achieved in international events throughout the 1920s, Cotton's finest TT achievement occurring in 1926 when its entries finished 1, 2, 3 in the 250 Lightweight race.

Previous owner Jack Squirrel purchased this Cotton-Blackburne racer in the early 1980s from well-known Brooklands competitor, the late Rupert Leveson-Gower (see letter on file). Leveson-Gower told Jack that he had bought it from another ex-Brooklands racer Leslie Hawthorn, proprietor of the T-T Garage, Farnham and father of Britain's first Formula 1 World Champion, Mike Hawthorn. The machine had been sold to Leveson-Gower as 'ex-Eric Fernihough' and this attribution is repeated in Motor Sport magazine's August 1951 edition in which editor Bill Boddy recounted details of his visit to the T-T Garage in an article entitled 'The Hawthorn Rileys'. Boddy's article concludes with the statement that he had also been shown various motorcycles including 'the ex-Fernihough twin-cam Cotton-Blackburne'. Rupert Leveson-Gower's brother Alastair (holder of a Brooklands 'Gold Star') worked at Leslie Hawthorn's T-TB Garage and his son Robert (Rupert's nephew) has confirmed that Rupert bought an 'ex-Fernihough Cotton' from Leslie Hawthorn.

Eric Fernihough was only briefly associated with Cotton. In 1935 he was charged with preparing JAP engines for Cotton's entries in that year's Isle of Man Lightweight TT. Despite Eric's best efforts, the Cottons fared no better than they had in 1934, the lead machine finishing 11th while the other two retired. After the TT Eric bought one of the Cottons, which was prepared for short circuit and road racing, complete with a large-capacity fuel tank fabricated by his assistant, Dick Chapman, whose experiences of working with the great man were recounted in an article in Motorcycle Sport (April 1991 edition).

Later in 1935, Eric took the Cotton-JAP to 2nd place in the '250' event at the Dieppe Grand Prix and won his class at the Brighton Speed Trials in September. In October, he and fellow Brooklands competitor Charles Mortimer shared the Cotton for a successful attempt at several long-distance records at the Weybridge track. Eric Fernihough was killed on 23rd April 1938 while attempting to regain the motorcycle land speed record when his Brough Superior crashed at Gyón, Hungary. By this time the Cotton-JAP record-breaker had been sold to another Brooklands racer, David Whitworth. A picture of him astride it was published many years later in Motorcycle Sport (May 1968 edition).

There is, however, no documentary evidence to support a link between this Cotton-Blackburne and Eric Fernihough, who is most unlikely to have raced anything Blackburne-powered as he held an agency for the rival JAP concern and was an acknowledged expert in tuning their engines. Fernihough was an Excelsior agent and many of his early successes, and all of his Grand Prix victories, were achieved on the Tyseley firm's JAP-powered motorcycles. He was European Champion in the 175cc class for Excelsior in 1931. In any case, it has been reported that the ex-TT rider Norman Webb acquired the 1935 record-breaking Cotton-JAP in the 1970s, and this machine was reunited with Dick Chapman at the 1987 Brooklands Reunion (see The Classic MotorCycle, December 1988 edition).

Of course, the possibility exists that the Cotton-Blackburne offered here merely passed through Fernihough's hands, thus gaining the 'ex-Fernihough' appellation in that way. It is not known what make or type of engine was fitted when it left the factory. Although dating from circa 1930/31, the powerful Blackburne two-cam parallel-pushrod motor was still capable of giving a good account of itself and would have made a viable alternative to the ubiquitous JAP some half-a-dozen years later.

Given that Bill Boddy was shown the Blackburne-engined Cotton at the Hawthorns' premises in 1951, Rupert Leveson-Gower must have purchased it subsequently and therefore cannot have raced it in period. As Leslie Hawthorn was a regular Brooklands competitor it is possible that he raced the machine there, and it must also be possible that his employee, Alastair Leveson-Gower, may have done so as well. This line of research using the Brooklands Society archives might well prove rewarding for the next owner.

Previous owner Jack Squirrel raced the Cotton-Blackburne in Vintage events in both the 250cc and 350cc classes, the last occasion being at Snetterton in 1993. He later had the Cotton-Blackburne restored by Sammy Miller and the machine has been kept on display at Sammy's world-famous museum in New Milton, Hampshire since completion in 2005. As presented, the Cotton-Blackburne is fitted with the correct type of Burman racing gearbox with magnesium shell (modified to accept a Norton clutch), Webb forks (rather than Bramptons) and a replica fuel tank. The current vendor purchased the machine from Jack Squirrel a few years ago. A spare 250cc cylinder barrel and piston are included in the sale together with a file of correspondence.