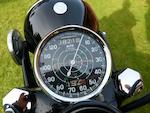 Hughie Hancox Rebuild
1947 Triumph 499cc Tiger 100
Registration no. GDU 58
Frame no. 47TOO 84852
Engine no. T00 84852
Triumph's 'Tiger 100', introduced pre-war as a sports version of their industry-leading 'Speed Twin', re-appeared in 1947 revised with the maker's new telescopic fork and that lovely silver and black colour scheme. This particular 'Tiger 100' was bought new by Len Harris who was an engineer at Coventry's Massey-Ferguson factory. He eschewed Triumph's heavy, stop-gap, sprung-hub rear suspension and rode the machine until his riding days ended in 1960, looking after it well thereafter. Years after his death, the Triumph was put out for the dustbin men, who, thankfully, refused to move it!

Len's son, John, then sought out a near neighbour, the great Triumph expert Hughie Hancox, who persuaded him that the rare and completely original T100 warranted a full Hancox rebuild, which it duly received. All mechanical updates were incorporated, though the external details, including the instrument panel, were retained. Genuine Triumph components, then easily obtainable, not so now, were used throughout.

The vendor bought the T100 through Hughie Hancox, from John Harris, who did not ride, and it has covered barely 200 miles since the rebuild, still requiring running-in. The Triumph's story was covered in 'British Bike' magazine for May 1991 (copies on file) and it represents a probably unique opportunity to buy an iconic T100 rebuilt by the acknowledged master of his craft. Re-commissioned in January 2013, the T100 is presently without papers, mislaid in a house move.