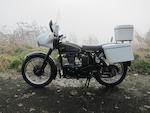 1955 Velocette 350cc MAC
Registration no. HAG 271
Frame no. 2S-5738
Engine no. MAC-22048
A long-stroke version of the overhead-valve 250cc MOV, the MAC first appeared in 1934. The 250's cycle parts were retained for the MAC, which with its greater power yet scarcely increased weight was a worthy rival to Hall Green's more expensive overhead-camshaft 'K' series. Prior to its purchase by the vendor in 2006, this alloy-engined MAC had been professionally restored in Scotland. The rebuild included rebuilt wheels with new chromed rims; a repaint complete with transfers; re-plating of various components; reconditioning the magneto; and a new exhaust system. Since acquisition, the engine has been rebuilt with the later cylinder head (with larger valve stems), re-bored and fitted with a new piston. Crankcase breathing is via the rocker cover. In addition, the magneto auto-advance drive has been replaced and a VOC modified oil filter kit, JG electronic voltage control and a Burlen battery fitted (inside the original battery casing). Other noteworthy features include an Avon handlebar fairing, direction indicators, engine/leg protection bar and rear carrier complete with panniers and a top box, all of which makes 'HAG 271' a very useable long-distance tourer. The machine comes with a small quantity of special tools and spares; instruction manuals and parts lists; old-style continuation logbook; current road fund licence; MoT to 3rd July 2013; old/current Swansea V5/V5C documents; and a large quantity of marque specialists' parts invoices.