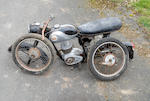 1966 BSA 172cc D10 Bantam
Registration no. HKP 658D
Developed from the pre-war DKW RT125 and announced in 1948, the Bantam became a top seller for BSA, in excess of 500,000 leaving the Birmingham factory before production ceased in 1971. The introduction of the 172cc D10 model in 1966 marked a number of important developments, the most important of which were a change to coil ignition (replacing the old flywheel generator) and the adoption of a four-speed gearbox, while a raised compression ratio and bigger carburettor increased maximum power to 10bhp and the top speed to 62mph. This dismantled and incomplete Bantam D10 is offered for restoration. There are no documents with this Lot.