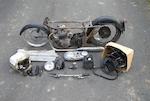 1960 Norton 596cc 'Dominator 99' Project
Frame no. R13 85250
Engine no. 87991 14R
Norton's 500cc twin-cylinder engine first appeared in the racing singles' 'Featherbed' frame in November 1951 as the Model 88. Introduced for 1956, the 596cc Model 99 was outwardly identical to its smaller brother. Endowed with greater power and higher gearing that enabled it to top the magic 'ton', the 99 retained all the excellent handling and steering characteristics associated with the Featherbed chassis. The model remained essentially unchanged, apart from gaining alternator/coil-ignition electrics for 1958, until dropped in 1962.

This dismantled and incomplete motorcycle consists of a 1960 Dominator 99 engine, gearbox, wheels, various other parts and a Featherbed frame, the latter's 'R13' number prefix being that of a 350cc Model 50 of the same year. There are no documents with this Lot.