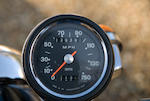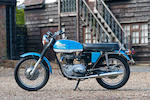 1972 Triumph 649cc TR6R Tiger
Frame no. TR6R BG48054
Engine no. TR6R BG48054
ISDT success in the late 1940s prompted Triumph to adopt the Trophy name for their off-road styled twins. But although it retained its sporting character, the model became more of a roadster as time passed, ending up, in effect, as a single-carburettor Bonneville. More tractable than the Bonnie and more economical too, the Trophy gave little away in terms of outright performance, the bike's standing quarter mile time and top speed being within a whisker of its twin-carb sibling's. With the launch of BSA-Triumph's much revised 'oil-in-frame' range in November 1970, the 'Tiger' name was revived for the TR6R roadster while the TR6C street scrambler version continued to be known as the 'Trophy'. Incredibly, tooling to build the new frames had not been procured, leading to severe production delays that prevented machines reaching the market for some months. This and the BSA-Triumph group's other problems hastened its collapse, and when new owners NVT announced the closure of Triumph's Meriden factory in 1973, the result was the famous workers' sit-in.

There are no registration documents with this unregistered TR6R, which has been fitted with Norton Commando-type silencers and currently displays a total of 13,939 miles on the odometer.