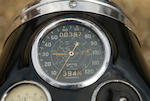 c.1954 Triumph 649cc Tiger 110
Frame no. 52816
Engine no. T110 67635
Every Triumph enthusiast knows that the Bonneville owes its name to record-breaking successes on the eponymous salt flats, but how many are aware that the machine which set a new 650cc production machine record of over 147mph in 1958 was a Tiger 110 equipped with twin carburettors? A development of the Thunderbird tourer, the T110 prototype performed brilliantly in the 1953 ISDT, thus providing the production version - launched later that year - with invaluable publicity. The first Triumph with swinging-arm rear suspension, the T110 came with a revised engine incorporating a stronger crankshaft, high-compression pistons, larger inlet valves and 'hotter' cams.

A sought after example dating from before the introduction of Triumph's controversial 'bathtub' styling, this unregistered T110 was restored by Charlies Motorcycles of Bristol and comes with a press cutting depicting it with the firm's proprietor, Reg Hall, on his retirement in January 1997. The machine is offered with sundry invoices.