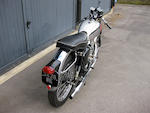 1958 BSA 500cc DBD34 Gold Star
Registration no. 3435 WE
Frame no. CB32 7816
Engine no. DBD34GS 3716
On Wednesday 30th June 1937, a specially prepared Empire Star 500 ridden by the great Wal Handley achieved a 100mph lap of the Brooklands circuit on its way to a debut race victory and award of the 'Gold Star' that would give BSA's new super sports model its evocative name. Possibly the most successful production racing motorcycle ever, the post-war Gold Star formed the mainstay of clubman's racing in the 1950s. In fact, it was the model's domination of the Isle of Man Clubman's TT which led to the event being dropped after Gold Star rider Bernard Codd's 1956 Senior/Junior double victory. While its trials and scrambles derivatives demonstrated the design's versatility by chalking up an equally impressive record in off-road competition, for the majority of enthusiasts the 500cc DBD34 in Clubman's trim is the epitome of the 'Goldie'. The DBD, the ultimate road going 500 Gold Star, appeared in 1956 when the famous RRT2 close-ratio gearbox and 190mm front brake became standard equipment. From then on BSA's perennially popular sporting single changed little until its much lamented demise in 1963. Today, the Gold Star remains one of the most highly sought after of post-war British motorcycles and is supported by a most enthusiastic owners' club.

First registered in Sheffield in October 1958, this example comes with its original logbook confirming matching frame/engine numbers. Fully restored by marque specialist Len Haggis in 1998, it was purchased by the current vendor in February 1999 and is described by him as in 'perfect' condition. The machine is offered with the aforementioned logbook, restoration photographs, a quantity of expired MoT certificates, Swansea V5C document and current road fund licence/MoT.
Saleroom notices
The Old Style Log Book will be forwarded to the buyer after the sale.