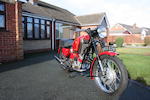 1957 Scott 596cc Flying Squirrel
Registration no. UOX 626
Frame no. S1104
Engine no. DPY5446
Bradford-born Alfred Angas Scott's experiments with two-stroke motorcycle engines began in the closing years of the 19th Century. The first complete Scott motorcycle followed in 1908, its twin-cylinder engine, two-speed foot-change gear and all-chain drive marking it out as an exceptionally advanced design for its day. Low weight, ample power and sure-footed handling thanks to a low centre of gravity were Scott virtues right from the outset. Scott's most well known model is the Flying Squirrel, which was launched at the Olympia Show in 1925 and came in 498cc and 596cc capacities, the latter being the most expensive machine in the range.

Alfred Scott's original engine layout would survive until production petered out in the late 1960s, by which time the company had changed hands and relocated from Shipley to Birmingham. Scott's acquisition by Matt Holder's Aerco Jig & Tool Company in 1950 brought with it a number of long-awaited improvements, including a new duplex frame featuring rear suspension and improved brakes, though customers had to wait until 1956 to buy one of these new 'Birmingham' Scotts. In the meantime, old-style Flying Squirrels that had been completed at Shipley before the company's sale were the only models on offer.

This Birmingham-built Flying Squirrel was purchased by the vendor in 2010, prior to which it had been standing unused for some 10 years. Following purchase he immediately re-commissioned the Scott, which had been restored by the previous (deceased) owner, then completed a repaint of the cycle parts (colour matching the old paint) and fitted new radiator hoses, clutch and drive chain. The bike had previously been converted to 12-volt electrics and fitted with electronic ignition. Birmingham Scotts are, in themselves, relatively rare but the 'red' Flying Squirrels produced there are much rarer still. First registered in Birmingham in June 1957, 'UOX 626' is accompanied by an old-style continuation log book dating from 1965, which lists the model as 'Red Squirrel', suggesting that it may indeed be one of the few original non-black Scotts. Paperwork consists of the aforementioned logbook (noting a change of engine in 1967), a quantity of old tax discs, eight expired MoT certificates and a current Swansea V5C document.