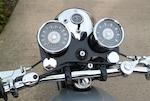 1970 Norton 650cc Mercury
Registration no. BYL 998H
Frame no. 129398
Engine no. 129398
When twin cylinder Norton engines are mounted in Featherbed frames they are most closely associated with the Birmingham firm's Bracebridge Street works, at Aston, where the evocative Dominator model was first produced. As is well chronicled Bert Hopwood's 500cc engine design successfully coped with several increases in its capacity, insofar by 1961, when Norton was forced to relocate at AMC's HQ in Woolwich, the London-made Nortons began as 650s, and were later stretched to 750cc, both for the Atlas and the initial run of Commandos. Although very few personnel moved down from Birmingham to London it is fair to say that the AMC workforce were happy to build the new Norton product with as much pride and quality as had been devoted to AJS and Matchless over so many years. Yes, the AMC machine tools were long past their sell-by date, but an inherent mix of skill and conscience in that SE London factory somehow ensured that the output was of a superior standard to contemporary Triumphs or BSAs. In 1966 a new management, Norton Villiers, assumed the AMC reins, continuing with a scaled-down but un-changed workforce, whose urgent priority was to commence Commando production. Their secondary task was to utilise, and market, the huge stock of hardware (Atlas, P11 etc) not common to the new Commando; it was from this background that the Mercury arrived in 1968. Norton Villiers, meanwhile, and understandably so, were clearly that pre-occupied with the Commando whereby upon its announcement the Mercury was allowed to be perceived as a 'parts bin' special, whereas in reality it was only a slightly more sober (single-carb) edition of the greatly revered 650SS, and with a lumpy seat!

The late model Mercury was a pride-and-joy purchase by the vendor in Spring 1980, at which point he began a full nut and bolt restoration, at the same time upgrading the Norton to SS specification, primarily with the fitment of Dunlop alloy rims, twin carburettors, and a tls front brake. The work consumed six years, not for reasons of lethargy but that the owner was profoundly involved on the organisational side of the Owner's Club of another famous brand; in any case, per his recent quote, "...the Norton job was too enjoyable to rush!" When finally on the road the finished article more than matched his long-believed expectations, where after the attractive SS version Mercury was occasionally displayed at a selection of Norton Owner Club Rallies and Shows, winning its first award in 1987 (see photos on file). The spotless Norton is offered with a V5 Registration document and MOT certificates.
Saleroom notices
The Registration is BYL 988H. The Engine no. is 18SS/129398/P. The machine is offered with copy MOT's only.