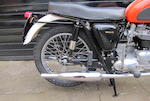 Property of a deceased's estate
1966 Triumph 649cc T120 Bonneville
Registration no. HKM 9D
Frame no. DU40110
Engine no. T120 DU40110
Supplied new to dealership Grays Ltd in Kent, this Triumph Bonneville was purchased by the vendor's late father in the 1970s in poor condition with a view to restoration. Little or nothing was done and the machine remained in dry storage until 2003 when work was carried out on the engine. The crankshaft was reground; new con-rods and bearing shells fitted; and the cylinder liners replaced, re-bored and fitted with Hepolite pistons (see invoice on file). Work then appears to have been suspended until 2010 when the machine was entrusted to Wylde & Son Ltd of Leeds to finish the restoration. The frame was powder coated; the tin-ware blasted and repainted; the wheels rebuilt with British rims and stainless steel spokes; and new tyres fitted. The Triumph was then reassembled and updated with 12-volt electrics, electronic ignition and various other new parts, including numerous stainless steel fasteners. Other parts replaced included the fork stanchions, seals and bushes; control levers; exhaust system (complete), headlamp shell; chains and sprockets, etc. The engine and gearbox unit subsequently received further attention, including replacement of the gearbox lay-shaft needle-roller bearings and various other parts. On the restoration's completion in 2011, the Bonnie was MoT'd and the owner set about recovering the original registration number, which was eventually reissued with the assistance of the Triumph Owners Club. Described as in generally excellent condition, 'HKM 9D' has been started occasionally but not used on the road since completion.

The machine is offered with the aforementioned restoration invoices; pre- and post-restoration photographs; assorted DVLA correspondence; Triumph Owners Club dating certificate; Kent County Council registration records extract; and current Swansea V5C document. Following minimal re-commissioning, and replacement of the split fork gaiters, this beautiful Bonneville should be ready to return to the road with a fortunate new owner.