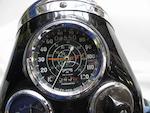 One owner, 4,550 miles from new
1955 Triumph 649cc Tiger 110
Registration no. SPX 254
Frame no. 63495 (see text)
Engine no. 63495 (see text)
Every Triumph enthusiast knows that the Bonneville owes its name to record-breaking successes on the eponymous salt flats, but how many are aware that the machine which set a new 650cc production machine record of over 147mph in 1958 was a Tiger 110 equipped with twin carburettors? A development of the Thunderbird tourer, the T110 prototype performed brilliantly in the 1953 ISDT, thus providing the production version - launched later that year - with invaluable publicity. The first Triumph with swinging-arm rear suspension, the T110 came with a revised engine incorporating a stronger crankshaft, high-compression pistons, larger inlet valves and 'hotter' cams. The T110 remained in production into 1961, one of the most important developments along the way being the introduction on this model for 1956 of the aluminium-alloy 'Delta' high-compression cylinder head, which increased power and pushed the T110's top speed towards 120mph.

This T110 has covered only 4,550 miles from new in the hands of its first and only owner and must be one of the most original of its kind still in existence. 'SPX 254' was first registered in West Sussex in March 1955 and comes with its original buff logbook listing only one owner: Kenneth Bridges of Capel, Dorking. Bizarrely, the original logbook records frame and engine numbers completely different from any ever used by the Triumph factory. They are, however, correct for a 1955 Ariel Square Four, suggesting that the West Sussex County Council clerk was registering one of those at around the same time and got the two machines mixed up!

Last taxed to March 1963 and stored for the last 50 years, 'SPX 254' is just as it left the factory. It will, of course, require re-commissioning at the very least and possibly more extensive renovation before returning to the road. A wonderful opportunity for the serious Triumph collector.