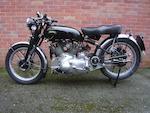 1949 Vincent 998cc Rapide
Registration no. KXM 988
Frame no. RC 4804
Engine no. F10/AB/1/2904
Under the hands of Philip Vincent and consultant engineer Phil Irving, the struggling HRD company established by TT rider H.R.Davies in 1925, had been bought to prominence by the mighty V-twin 'Rapide' (Series A) model in 1936. Astonishing for the time as this machine and its smaller stable-mates were, the most enthusiastic admirer had to admit that they left something to be desired aesthetically, with the jumble of piping visible leading to their cheery nickname of 'The Plumber's Nightmare'. The War put a stop to their development and 1939 might well have been the end for the small company.

In fact, the brains which had designed the HRD did not rest during those difficult years and, as motorcycle production resumed in 1946, the industry, itself busy putting mostly pre-war designs back into production, was set back on its collective heels by the newly-announced 'Series B' Vincent HRD twin, once again named 'Rapide'. The futuristic design, with its innovative suspension and so cleanly-designed engine used as a frame member, was certainly astonishing. Even more astonishing was the easily-attained 110mph performance, excellent handling and first-class brakes. The biggest constraints on the Vincent HRD when announced were the inadequate and worn-out British road system and the limited spending power of the public.

The firm survived liquidation in 1949, and in the same year the 'Series C Rapide' version appeared with – at last - the firm's own 'Girdraulic' forks and re-branded as the 'Vincent', thus losing the link with HRD Massively successful with the riding elite, the 'Rapide' was succeeded by the somewhat less appreciated 'Series D', the final Vincent, in 1954, after further financial re-structuring for the, by then, ailing company.

KXM 988 is a Conway Motors matching-number 'Series C' in substantially original condition, the only visible modifications being Mikuni carburettors, easily reverted to standard if so desired. In long-term ownership, the 'Rapide' has been the subject of a full restoration of both chassis and mechanical components. The motor was fully rebuilt in 2006 with the crankshaft reconditioned and balanced by J. J. Engineering and with electricals and the BTH magneto overhauled in 2007. The lighting system requires final connection.

Stainless components were used throughout, of course, and this lovely machine has been carefully run-in over fewer than 1500 dry miles since the rebuild, all in local usage. A period 'Shadow' speedometer and unobtrusive stainless engine bar are fitted. The 'Rapide' comes with a photographic record of the rebuild in its well-documented history file and is (daylight) MOTd and licensed until September 2013.
Saleroom notices
the machine offered with a V5C Registration Document.