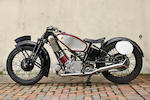 1930 Scott 596cc Sprint Special
Frame no. 63
Engine no. PY3461
Gearbox no. 1948C

'To many, it was the absolute epitomy of everything that was good in the Scott design, even if the high cost put it out of reach and on a pedestal.' – Jeff Clew, 'The Scott Motorcycle'.
The model that the late Jeff Clew was talking about was the Sprint Special, a new introduction to the Scott range for 1930: 'the most sleek and handsome of the open frame models to leave the Saltaire works'. The Sprint Special was designed for grass-track racing and hill climbs, and was assembled to individual customer order in the Competitions Department, which in part accounted for its relatively high price of £95. This was the same as the dirt-track model and some 40% more than Scott's most expensive roadster, the 596cc Flying Squirrel tourer. According to factory publicity, it was 'for the elect of speedmen who, despite the obvious costliness, demand a machine built to their special order to embody all their pet fancies, hitherto divided among our various models...'

The Sprint Special incorporated a lightweight frame similar to the dirt-tracker's and at 300lb weighed less than every other twin-cylinder Scott apart from the old two-speed models. Its final specification depended entirely on the customer's preferences, there being a wide choice of alternative components. The result was that no two Sprint Specials were identical.

This particular Sprint Special boasts a side-mounted carburettor, as found on the three-speed Super Squirrel and works bikes intended for the A-CU Six Days Trial, though it is not known whether this is as originally specified or a later addition. Factory records show that the 596cc machine (frame number '63'/engine number '3461') was despatched to 'Vignoles for Argentina' and equipped from new with Brampton forks, black/purple tank, a carrier and gearbox number '1948C', which it retains. Currently resident in Italy, this rare and most desirable of Scott motorcycles is described by the vendor as in good working order.
Saleroom notices
Although it is listed in the factory records between two other Sprint Specials - one despatched on 29/8/30 and the other on 24/10/30 - this particular example was despatched on 3rd June 1931 and is therefore a 1931 model and not 1930 as stated in the catalogue. It is possible that the stamped engine number is not original - it is difficult to be certain. There are drill holes of approximately 8-10mm diameter through both lower tubes of the rear fork about half way between the rear spindle and gearbox tray. There is evidence of either a crack or previous repair (it is impossible to say which without removing paintwork, which we have not been able to do), to top frame tube, about 75mm behind the steering head.