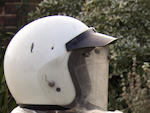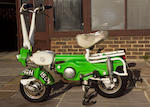 One owner; 25 kilometres from new
1975 Motograziella 47cc Moped
Registration no. KGH 155N
Frame no. 22815
Engine no. 7081910
Intended for owners of yachts, caravans and motorhomes, the Motograziella was a Sachs-powered folding moped manufactured by Carnielli of Vittorio Veneto, Italy from the mid-1960s until the company closed in the 1980s. Carnielli had been founded in the 1920s by Teodoro Carnielli and first came to prominence as manufacturer of Bottechia bicycles (named after Ottavio Bottechia, Italy's first winner of the Tour de France). Carnielli began making motorcycles in the early 1930s, concentrating after WW2 on two-stroke lightweights and the Vittoria scooter. This Motograziella was purchased new by the lady vendor's father (a doctor) and has covered only 25 kilometres from new. Believed last ridden in the 1980s, it will require re-commissioning, at the very least, before further use. The machine is offered with two expired MoTs (most recent 1985), its original Swansea V5 document and the original owner's crash helmet.