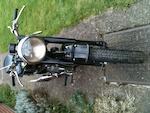 1951 Velocette 347cc MAC
Registration no. MAL 142
Frame no. 9519
Engine no. 15906
Introduced in 1946 as a more powerful version of the MOV 250, the extra 100cc of the MAC made the compact Velocette into an extremely pleasant mount, the light weight and general handleability producing plenty of customers for the always-struggling makers. Revised in 1950 with a new crankcase and Velocette's own 'teles' in place of the Dowty units, the layout was further changed in 1953 with a sprung rear-end. MAL 142 has been a pleasure for its mature owner who regrets that 'the bike seems heavier now'. It has remained on the road in his ownership – though the regulator now needs adjustment - and comes with a spare engine and other components, a spares list and instruction book. This could be an excellent introduction to the Velocette make.
Saleroom notices
The machine is offered with a V5C, V5, Old Style Logbook. There is no Spares List or Instruction Book with this lot.