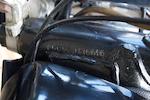 1972 BSA 500cc B50SS Gold Star
Registration no. KPF 510K
Frame no. JE 15655
Engine no. JE 15655
BSA-Triumph's revamped range for 1971 included five BSA singles, all sporting the new oil-bearing frame, Ceriani-style front fork and conical-hub brakes. The two 250s continued to use the B25 engine in virtually unchanged form while the larger B50 models were now a full 500cc, their immediate predecessors having been 441cc. Although similar in overall layout to the quarter-litre unit, the new 500 motor boasted a needle-roller big-end - rather than plain - and a third (drive side) main bearing. In both capacities there was a Victor trail model and an 'SS' - Street Scrambler - the latter featuring the larger, 8" front brake. The famous Gold Star name was revived for the duo, to the chagrin of motorcycling traditionalists. Despite adequate performance and excellent handling, the newcomers were swamped by the tide of financial failure which soon overtook BSA-Triumph, the 250s disappearing in August 1971 and the 500s the following year. This B50SS had just been rebuilt and MoT'd by the immediately preceding owner when it was purchased by the vendor in November 2001. Kept as part of the owner's private collection and not used since acquisition, 'KPF 510K' should require only relatively gentle re-commissioning and a new battery prior to further use. This appreciating modern classic is offered with expired MoT certificate (September 2002) and Swansea V5 document.