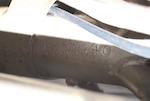 1957 BSA 650cc Golden Flash
Registration no. 633 KME
Frame no. BA7 8840
Engine no. BA10 11817
Introduced late in 1949, BSA's A10 650cc twin closely followed the basic pattern established by the 500cc A7 while contriving to be almost entirely different in detail. The existing parallel-twin architecture was retained for the new A10, with 360-degree crankshaft and single camshaft at the rear of the cylinder block, as was the four-speed gearbox bolted directly to the crankcase in a form of semi-unitary construction. Like the A7, the A10 was available with either a rigid frame or plunger rear suspension. Fitted at first only to export models, the 4.25-gallon fuel tank became available on the home market after one year, as did the striking metallic beige finish of the 'Golden Flash' version. By the end of the succeeding decade, BSA's rugged 650cc twin had undergone considerable development. On the cycle parts front, the introduction of a swinging-arm frame in 1954 had resulted in the original bolt-up gearbox's replacement by a conventional separate item, while the engine had benefited from numerous improvements including an increase in compression ratio for 1958 and the standardisation of the sports models' high-lift camshaft for 1959. This Golden Flash was in good running condition when it was purchased for restoration in 1982. Since then, '633 KME' has remained untouched within the owner's private collection, as he has not found time to rebuild it. An excellent candidate for restoration, the machine is offered with old-style Swansea V5 document.