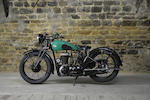 c.1939 BSA 500cc M20
Frame no. WM20 5045
Engine no. ZM20 7475
The creation of one of the British motorcycle industry's most prolific and talented designers - Val Page - BSA's new single-cylinder range debuted in 1937. Intended mainly for the sidecar man, the two biggest sidevalve models were the 496cc M20 and 596cc M21, both of which came with rigid frames, girder forks and four-speed, hand-change gearboxes. Ruggedly built and endowed with copious low-speed pulling power, both models were highly successful in their intended role as sidecar tugs and many M20s did sterling service as despatch riders' mounts with Allied forces during WW2. Indeed, this particular example's 'W' frame number prefix indicates that it was originally supplied for military use. There is no registration document with this Lot.
Saleroom notices