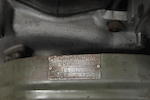 c.1944 Royal Enfield 346cc Model CO
Registration no. 3092 TE 14 (France)
Frame no. M22267A
In 1936 Royal Enfield began introducing a revised range featuring vertical engines, the first of which were the overhead-valve models G (350cc) and J (500cc). Later in the year the line-up expanded to include the basically similar 250cc overhead-valve S2 and 350cc sidevalve Model C. In 1940 the 'WD' (War Department) military Model C commenced delivery to UK armed forces and approximately 17,600 had been produced before the model was superseded by the overhead-valve WD/CO in 1942. By the war's end more than 29,000 WD/C and WD/CO models had been supplied to Allied forces, some 2,800-or-so going to the RAF. This example carries two 'Établissement Général du Matériel du Mans' plaques indicating that it was used by the French Armed Forces and rebuilt in July 1950. The machine is offered with French Carte Grise de collection and various documents relating to its purchase in 2000.
Saleroom notices