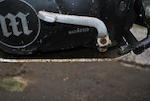 Property of Yori Kanda
c.1980 Montesa Cota 349 Trials Motorcycle
Frame no. 51M 18202
Founded in the mid-1940s in Barcelona, Montesa entered road racing in the early 1950s but its major impact on motorcycle sport would be away from the tarmac, the Scorpion and Capra moto-crossers and Cota trials being the equal of any of their contemporaries. In the UK, six-time British trials champion Malcolm Rathmell did much to promote Montesa after he joined as development rider in 1974, winning the Scott Trial in 1975 and 1976. The original 250cc Cota was succeeded by the Rathmell-developed Cota 348 in 1974. The Cota 349 followed in 1979 and was ridden by Rathmell to win that year's Scottish Six Days and Scott trials, while Ulf Karlson took the World Trials Championship on one in 1980. State-of-the-art in its day, the Montesa 349 featured a six-speed gearbox, magnesium engine cases, Motoplat ignition and an under-seat fuel tank. Its engine seized, this 'barn find' Montesa 349 is offered for restoration and sold strictly as viewed. There are no documents with this Lot, which is offered without reserve.
Footnotes