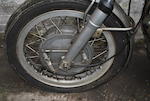 Property of Yori Kanda
1972 Moto Guzzi 749cc V7 Sport Project
Registration no. KGK 871K
Frame no. VK11427
Engine no. VK30343
An engine design that originated in the early post-war years, Moto Guzzi's venerable 90-degree v-twin is still around today powering the company's latest generation of motorcycles. Conceived to power a lightweight military three-wheeler this remarkable engine first appeared in a motorcycle in December 1965 when the 703cc V7 was displayed at the International Milan Show. The work of Giulio Carcano, the man behind Guzzi's spectacular V8-engined Grand Prix racer, the V7 was the biggest and fastest roadster ever to come out of the factory at Mandello del Lario. After Carcano retired, his successor Lino Tonti was charged with creating the first true sports version, the V7 Sport, which arrived in 1971. In creating the V7 Sport, Tonti moved the electrical generator from atop the crankcase to the crankshaft nose, thus enabling a much lower frame to be used. In marque expert Mick Walker's words, the result was 'an amazing transformation of a formerly staid, overweight package.' In addition, the newcomer featured a 749cc engine to qualify for 750-class racing, a five-speed gearbox and large-diameter drum brakes, the front a double-sided, twin-leading-shoe unit. With 52bhp available at the rear wheel, the magnificent V7 Sport was good for 120mph. This incomplete V7 Sport was acquired by its late owner in July 1984 and currently displays a total of 42,663 miles on the odometer. Offered for restoration and sold strictly as viewed, the machine comes with old-style Swansea V5 document, restored petrol tank and toolboxes. No reserve.
Footnotes