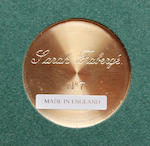 A Theo Faberge limited edition number 7 Jimmy Johnstone egg
Limited Edition number 7 of only 19 produced - (the number 7 important as it represents his shirt number), the lion is presented as a finial in sterling silver and 24-carat gold – symbol of Celtic's triumph in winning the European Cup in Lisbon in 1967. The lion presides over the badges of Celtic's winner's medals – the European Cup medal at the front; to the reverse, the Scottish League Championship medal; and flanking them, to the left the Scottish Football Association Cup and to the right, the Scottish Football League Cup medals. Struck in the original dies, gilded and hand-enamelled, the sterling medals intersperse a reminder of Jimmy Johnstone's origins with the coal pit-head – four winding-shaft supports, fashioned in silver and black gold. The top of the Egg itself is hand engine-turned on sterling silver and precious rhodium. The lower half of the creation is adorned with Celtic Football Club's badge proclaiming its 1888 origin and produced here with specific authority from the Club. The badge is counterbalanced by the motif from 'The Lord of the Wing' motion picture, which celebrates Jimmy Johnstone's career and achievement. To the sides, seven magic celtic rings, also in hand-enamelled silver. The bezel is an echo of the 'Jungle', whose corrugated roof it commemorates. Opening the Egg reveals Jimmy Johnstone on a field of gold and hallmarked silver, poised aslant as he presses forward: Celtic's legendary player, triumphantly modelled in silver and fine gold, at his feet a sterling and black gold diamond-studded football, with Jimmy's signature. The egg placed on a foot turned with seven steps in final witness of Jinky's number.

Sarah Fabergé, great-granddaughter of Russian Imperial Jeweller Carl Fabergé, created the JIMMY JOHNSTONE EGG both in celebration of Celtic Football Club's greatest ever player and in his support.
Footnotes
Saleroom notices
Please note the gold in the egg is plated gold onto the silver, the egg is approximately 17.5cm high.