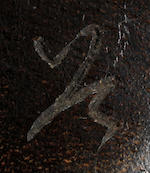 Three umimatsu (fossilised pine) okimono of nasubi (aubergines)
By Tokoku, 19th century
Each realistically carved, fully exploiting the purple-black umimatsu, of graduated size, the almost black material with pale lacquer striations, lightly polished to show the grain, signed respectively To, koku and to; with wood storage box, titled Tokoku koku umimatsu nasu san (three aubergines of umimatsu carved by Tokoku). The largest 17.5cm (6 7/8in) long, the smallest 14.7cm (5¾in) long. (4).