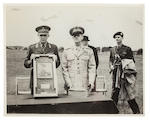 Felix de Weldon. (American, 1907-2003)
The original plaster maquette bas-relief for a monumental memorial
[Washington D.C.]; circa 1945-1950
The plaster maquette planned to be a memorial, but in fact incorporated as a brass plaque into the Monument on Mount Suribachi, Iwo Jima Island erected in the 1950s.
11in. x 9.25in.
Footnotes