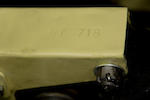 1964 Jaguar XKE Series 1 3.8 Liter Roadster
Chassis no. 879718
Engine no. RA 2679-9
In 1958, Jaguar technical director William Heynes and designer Malcolm Sayer convinced their boss, Sir William Lyons, that a new production sports model was needed. Thus was born the E-Type, one of Jaguar's longest-running and most revered models.
Actually, the E-Type already existed as a concept. Developed from the racing D-Type in 1956, it had been put aside when Lyons abruptly canceled the competition program. Dusting off the prototype, an aluminum-bodied roadster with 2.4 liter XK engine and independent front and rear suspension, Heynes and Sayer reengineered it for steel, and a 3.8 liter engine as used in the Mk IX saloon.

The engine and transmission aside, the production E-Type was all new. It combined a multi-tube front chassis with a monocoque center section. Front suspension was similar to the XK 150's wishbones and torsion bars, but the rear was revolutionary. Comprising transverse lower links and fixed-length driveshafts, its wheels were suspended on coil spring-shock absorber units, two to a side. The differential was mounted to a hefty steel crossmember and hosted inboard disk brakes. Anti-roll bars were installed front and rear.

At 2,520 pounds, it was 500 pounds lighter than the XK 150 and more powerful to boot. The 3.8 liter twin cam engine was fed through three SU sidedraft carbs and developed 265bhp. A top speed of 150mph was easily achieved with the standard 3.31 to 1 gearing, and some speculated that optional taller gears would be good for more. In its day, the E-Type was bested only by Ferraris and the Mercedes-Benz 300SL. Its debut came at the March 1961 Geneva Motor Show, to universal applause and plaudits from the pundits. Its pure form, almost devoid of ornamentation, blew everyone away, a sleek shape with only a tiny mouth for breathing , and slender bar bumpers and chrome wire wheels for glitz. The US intro came the following month at the New York International Auto Show where, in recognition of the strong brand awareness accorded its XK predecessors, it was advertised and sold as the "XKE."

From the start there were two models, a soft top with roll-up windows, called "roadster," and a fixed-head coupe. At $5,595 for the roadster and $300 more for the coupe it was more than twice the price of an MGA but also twice the car. On the other hand, its sticker was barely half that of a 300SL. Production through 1964 reached 15,500, divided about equally between roadsters and coupes. The original E-Type remained in production, with few changes, for ten years. In 1963 larger footwells were adopted, for greater passenger comfort, and the engine was enlarged for 1965, but otherwise the cars changed little.

This early 1964 XKE Open Two Seater is a matching numbers car that was formerly part of a private collection. According to its Jaguar Daimler Heritage Certificate, the car was delivered new to the U.S. market, being supplied through Jaguar Cars New York to J.P. Small also of New York, with a dispatch date of Independence Day, 1963, although it was most likely registered for the '64 model year. As new it wore Opalescent Golden Sand paint, had a tan interior and a black top. The car was restored by the previous owner, in the early 2000s and was clearly a thorough and no doubt costly job, during which time its scheme was revised to the current Primrose Yellow, another known Jaguar color. During this high level driver restoration the car was stripped to bare metal, completely repainted, with a new interior installed as well as the top. During the restoration process new tires and wheels were installed and the bright work was re-plated. There is a radio blanking plate in the car. The vehicle has a new stainless steel exhaust system, new wire loom, new shocks front and rear, new hydraulics, new cooling system, the gas tank was taken out, hot tanked, epoxy sealed, and painted. The engine has been rebuilt and an auxiliary fan was installed.

In the present ownership the car has been serviced and maintained with the onus on driving, and while its restoration has aged lightly it still shows cleanly and with good panel fits. Accompanied by its Heritage document and some invoices from its former ownership, this is a good looking, ready to use example.