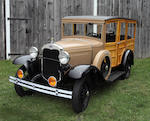 1930 Ford Model A Station Wagon
Engine no. A 3889827
On May 26, 1927, after having produced 15 million Model Ts, Henry Ford shut down his giant River Rouge complex to retool for the famous car's long-awaited replacement. More than six months would pass before a new Ford appeared. When it did, Americans crowded into showrooms to see a car so completely re-engineered that Ford named it the Model A. The new Model A's 200-cubic-inch, 4-cylinder engine was rated at 40 horsepower, double that of the Model T. A conventional three-speed manual transmission replaced the Model T's eccentric planetary-gear transmission and it included an electric starter as standard. Edsel Ford, Henry's son, directed the Model A's contemporary, clean and very pleasing appearance. The fact that they were obviously patterned on the prestigious Ford-built Lincoln of the time was certainly a plus.

Another first was Ford's entry into an area of the market for which it and other group brands would become synonymous, the 'Woodie' or Station Wagon which arrived on the Model A in 1929. It was a true multi-purpose vehicle and in a day and age when re-configurable seat set ups are common place the similarities are strikingly similar, showing just how advanced it was in concept. At a push it could accommodate 8 persons and their baggage on the fold down rear deck, or alternatively the individual pair of second row seats and rear bench could be folded forward and lifted out leaving a substantial flat deck area. As with a 'T' the color palette was limited to a single color, 'Manila Brown,' while fenders, wheels and most trim pieces were painted black. Over time dealers and subsequent owners frequently upgraded the appearance by adding the passenger car's chromed radiator shell.

The well-presented Station Wagon that we offer comes to sale from a prominent North East collection, in whose ownership its restoration has been overseen. The car's wood is beautifully varnished, the paint shows well, and the minimal dash is nicely finished. Unique touches that stand out include a chromed radiator shell, and motormeter.

Of the 4.3 million Model A's built, Station Wagons represented a miniscule fraction of production and their survival rate has been modest, with the result that they are less frequently seen on the market than their successors. This example of the model can be highly recommended for sociable warm weather motoring fun!
Saleroom notices
Please note that this vehicle is titled under its engine number.