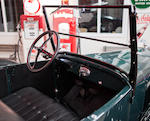 1926 Ford Model T Roadster Pickup
Chassis no. 14984503
Engine no. 13787126
Early in the history of the Ford Model T its robust construction, adaptable design and strong engine commended it to commercial users who recognized its potential as a goods hauler. Whole companies (Graham, for instance) became successful building conversion packages that turned Model T cars into light- and medium-duty trucks. Ford was not blind to the opportunity. Delivery vans and commercial roadsters appeared in the Ford catalog as early as 1911. World War I saw Ford turning out ambulances in five-figure quantities and the first commercial quantities of Model TT Truck chassis appeared in 1918, becoming an important component in Ford's production thereafter.

The TT, though was a medium-duty truck (an F250, if not an F350 in modern parlance). Light trucks, however, were overlooked while Ford touring cars and roadsters provided the basis for many owner adaptations to meet specific needs for light hauling. As with so many aspects of Model T production, however, eventually volumes became so high that even Ford could justify tooling to begin production of light-duty trucks.

Pickups were added to the Ford catalog in May 1925. There were two variations, a fixed cab pickup derived from the 2-door coupe and an open-top roadster pickup which was particularly adapted to the needs of orchardists in areas where cold weather was not a concern. A roadster pickup with its top and windshield lowered could maneuver under rows of orchard crops, hauling fruit and supplying pickers and it was better at it than any other vehicle then or since. At the nearly unbelievable price of just $281 they also were cost-effective in just about any application. Even in 1925 $281 was not a lot of money. The small pickup bed added just $21 to the price of a Model T Runabout.

The very suitability of roadster pickups to the specific needs of orchard crops has contributed to their rarity as they were treated like the utility vehicles Ford intended them to be and were used up and driven into the ground over years and years of use.

The handsome green pickup we present here is a correct original example of the model, which dates from very late on in production, within the last 25,000 built, based on the generally accepted cut off point of a little over 15million. The car was restored in its former long term ownership which dated back to the 1970s and was subsequently showed numerous times by that custodian between then and the early 2000s. It was acquired by this owner at the annual Hershey swapmeet in 2010, since when it has undergone a complete engine and transmission rebuild. In that process high compression pistons were fitted as well as a 280 camshaft and an NH carburetor, although it should be noted that a correct Holley 'hot plate' carb comes with the car. A set of tools also accompanies it.

Running on wire wheels, and fitted with a Ruckstell two speed rear axle, the car reportedly goes extremely well, enhancing its inherent versatility.
Saleroom notices
Please note that this vehicle is titled under its engine number.