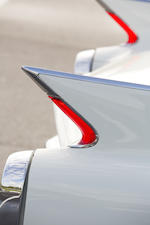 1960 Cadillac Series 62 Convertible
Chassis no. 60F112805
With their jet fighter styling, glitzy chrome trim, color-matched interiors and jukebox instrumentation, Cadillacs of the late '50s/early '60s epitomize an era when nothing succeeded like excess. Their over-the-top tail fins remain controversial even today. By the late 1950s Cadillacs incorporated new X-braced tubular chassis frames that increased structural rigidity while making possible lower body lines without loss of interior space; although hardly any larger than before, these restyled and low-slung Caddies looked bigger, which was all that mattered. They also sported fashionable tail fins. General Motors' chief stylist Harley Earl had introduced fins on the 1948 Cadillacs and the device would reach its zenith in 1959.

For 1960 the fins were toned down just a little and the overall look was slightly more restrained. Base model Series 6200 cars came with power steering, power brakes and automatic transmission as standard, while the DeVille Series 6300 offered power windows and seats in addition.

The offered lot is presented in its original Olympic White paint over red leather trim and white power top with matching white top boot. Restored about 15 years ago, the big convertible is powered by Cadillac's reliable 390cid V8. Featuring an optional 6-way front seat and heater, this was the car to buy when you had grabbed the brass ring and finally worked your way up to the nice office. The panels are laser straight, no small feat considering the acreage they cover, the chrome sparkles in the sun and the red leather inside is soft and inviting. Mechanically sorted, it is stated to be a strong runner and lovely open road cruiser. With the ability to comfortably seat 6 people, it was the perfect compromise between something topless with two doors and something that the whole family could enjoy. Cruising down the boulevard in a '60 Cadillac convertible is about as classy as it gets. The classic color scheme is just gravy. Don Draper would be proud.