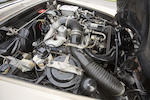 1968 Bentley T Series Sedan
Chassis no. SBX 6330
Introduced in 1965, the Bentley T-Series (and Rolls-Royce Silver Shadow) represented a complete break with tradition, at least as far as their method of construction was concerned, being the first of the Crewe factory's models to employ a unitary chassis/body. All-round independent suspension was another new feature and production cars boasted a roofline 4" lower than that of their predecessors. This new styling appealed to the younger generation of Bentley and Rolls-Royce owners more prevalent from the mid-1960s onwards and enabled the company to keep abreast of fashion. Elsewhere, the newcomers represented evolution rather than revolution, employing the well-tried 6.2-litre V8 engine of the preceding Silver Cloud while maintaining the highest standards of traditional hand-built craftsmanship. Predating Bentley's 1980s resurgence, the T-Series was produced in far fewer numbers than the equivalent Rolls-Royce Silver Shadow, the ratio being 11:1 in the Shadow's favor, and is considerably rarer today.

Even within those modest numbers the amount of cars delivered to the U.S. was few, which makes this all the more rare. A copy of its build sheet on file attests to the fact that SBX 6330 was an American market example and that as new it was delivered in two tone Sand over Sable with a beige hide interior. Once owned by noted collector Woody Richey of St. Petersburg, Florida, in more recent times it resided with a North Carolinian collector. Importantly the car retains servicing history for the last two decades, documenting its progressive sympathetic refurbishment to put it in the fine order it is today. It received its current respray in 1990 and this still has a high standard of finish, while this has been supplemented with recent Connollising of the original leather. Always used, but clearly well maintained, the car has been updated with a slightly later second series leather covered steering wheel.

In going through the car the current owners have found it to be a great running and driving example, and also report that virtually every electrical option is in good working order too, from windows to lights, to the original horn, the antenna, and importantly were the car to stay in a warm climate, the air conditioning blows ice cold. At some point the cruise control has been replaced, but this also remains in good working order, only its radio/stereo has been uprated.

Supporting this well presented car is a well documented file including build sheets, service record binder, owner's manual, and the car comes with tool kit, jack, car cover and two keys. All in all this makes for a great package and surely the most affordable way to enter the collectible Bentley market.